by
Fulton
This October was unusually dry and sunny, by Santander standards. I spent it umbrella-less. On the 1st of November, I realised that resistance is futile and ordered this brolly from England (because I can't find anything approaching it here). Now that people keep asking me about it, and I keep explaining, I thought I may just as well write the story down.
Unless I miss something, this is my fifth Stormshield. The first three were purchased in the now-closed (sigh) Eaden Lilley store in Saffron Walden. The very first one was black. It was under this umbrella that Yuri taught me his Life Cycle of Umbrella Bearers theory when he was about six. Unfortunately, I left it in a cinema and it was never found. I don't buy black umbrellas anymore.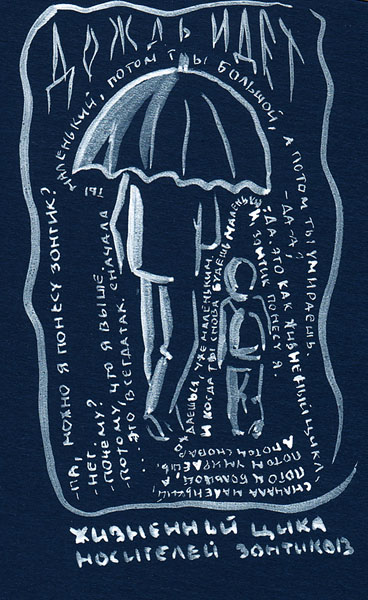 As much as I love to say that Stormshield is unbreakable, the truth is that the one of spokes of the second one's got broken. Not by wind, but by a combination of various heavy objects in our car boot and kids competing for the right of carrying it. Even so, it was serving us well until we had to move. We left it behind and took another (intact) umbrella with us to Canaries.
The Stormshield #4 was bought when we were living in Porvoo. We didn't use it that much there. Now it's found a new home in Moscow.
So what's so good about it? As I said, it's practically unbreakable. Thanks to its vented canopy construction, it does not get turned inside out by wind. It's lightweight. It's huge: if it is not very windy, you can get four adults comfortably standing and chatting underneath it with their rears still dry. Mind you, the size can be a problem as well: at 130 cm when open, it is wider than most sidewalks here. Quite often I have to tilt it to fit, say, between a wall and a lamppost (naturally, I get wet). Finally, it's long and sturdy. On weekends, I use Stormshield #5 as a hiking pole during dry spells in Cantabrian countryside.