by
Robert Frost
Today's web feed brought the sad news: died Grigori Dashevski (Григорий Михайлович Дашевский, 25.02.1964—17.12.2013), Russian poet and literary translator. One of the last works of Dashevski was the Russian translation of Stopping by Woods.
Frost wrote the poem in June 1922, that is, as far from "the darkest evening of the year" as one can get. Couple of months ago, the polls revealed that Stopping by Woods is a most-requested poem on BBC's Poetry Please, the world's longest-running poetry programme.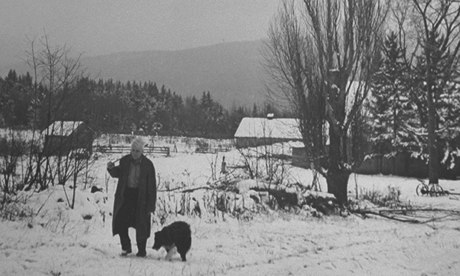 Robert Frost
Stopping by Woods on a Snowy Evening
Роберт Фрост, перевод Г.М. Дашевского
Остановившись у леса снежным вечером

Whose woods these are I think I know.
His house is in the village though;
He will not see me stopping here
To watch his woods fill up with snow.

My little horse must think it queer
To stop without a farmhouse near
Between the woods and frozen lake
The darkest evening of the year.

He gives his harness bells a shake
To ask if there is some mistake.
The only other sound's the sweep
Of easy wind and downy flake.

The woods are lovely, dark and deep.
But I have promises to keep,
And miles to go before I sleep,
And miles to go before I sleep.

Чей лес, мне кажется, я знаю:
в селе живет его хозяин.
Он не увидит, как на снежный
я лес его стою взираю.

В недоуменье конь, конечно,
зачем в ночи за год темнейшей
мы стали там, где нет жилья,
у леса с озером замерзшим.

Он, бубенцом слегка звеня,
как будто бы корит меня,
да веет слабый ветерок,
пушистым снегом шелестя.

Лес сладок, темен и глубок,
но в путь пора мне — долг есть долг.
И ехать долго — сон далек,
и ехать долго — сон далек.